Globally Mobile with ICU-Relocation App – Innovation on the Road: Your House-Hunting Trip is taken to the Next Level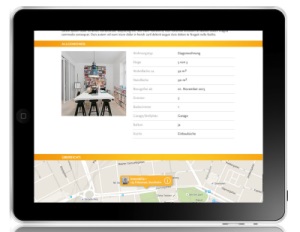 As an assignee, you definitely know what it's like to struggle with unmanageable paper chaos during and after a guided consultant trip. You have most probably had the feeling of being overloaded by information while searching for the flat of your dreams and the nearby daycare facility.
The research and development department of ICUnet, or also called ICU®-Lab, is concerned with the challenges of international expatriates and has developed a unique solution: The ICU®-Relocation App guides, henceforth, assignees and consultants on their consulting trips, which will now be more innovative, interactive and structured.
The new ICU-Relocation App provides a smooth handling and is accessible via tablet for assignees. Individual information regarding home exposés, city districts or infrastructures are bundled and presented at once. The assignee is able to track the current position via GPS at any time. The interactive online map shows the respective properties. The app enables a mobile radius search via a predefined position centered in accordance to the workplace. Nearby points of interest like schools, hospitals or shopping facilities are additionally displayed on the interactive map. The map allows the assignee to bear in mind the distances, for instance, between the prospective flat and the workplace. Personalized content like mulitilingualism or a special welcome address are also features of the demand-oriented package.
"The vision of the ICU-Relocation App is two-folded. Assignees and employees in the consulting area should profit through innovation. This new experience and a certain 'coolness-factor', which takes relocation to an entirely new level, are vital from the assignee-perspective. In addition, of course, are the key arguments: clarity, transparency and excellent overview.
In regards to our consultants, the always recurring topic of a house-hunting trip, for example, is a major starting points to develop a standardized and far simplified but highly modernized process. Points of interest, kindergarten, or public facilities are recurring facets of expat stays in the same city xy and therefore can be mapped as standard elements. On both the sides of the assignee and consultant, the relocation app provides cost and time saving measures as well as an additional benefit in the summary," explains Philipp Feigl, head of IT, ICUnet.
Did we spark your interest? Then don't hesitate to contact us under info@icunet.ag Beginning next year, the Relocation App is available for purchase on the market. Stay tuned!