Germany: Tax identification number for child benefit in 2016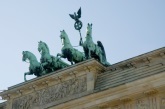 Parents or one parent who want to receive a child benefit in the next year, have to inform the appropriate family benefits department (Familienkasse) of their tax identification number (IdNr) as well as the one of the child concerned. This measure seeks to prevent double payments as child benefit can only be granted once for each child.
It is self-evident that tax identification numbers have to be enclosed henceforth in new applications for 2016. Parents or a single parent who already receive child benefit are able to ensure the further allowance by communicating their IdNr to their family benefits department (Familienkasse). Yet, transmission by telephone is not possible to prevent possible mistakes in oral information. Written information is needed and, if necessary, can be handed in throughout the year 2016.
If the subsequent submission is not made your family benefits department (Familienkasse) is legally obliged to cancel and reclaim all payments of child benefits since January 1, 2016. The regulation applies regardless of the child's birthdate and thus applies for all chrildren born before January 1, 2016 even though IdNR in principle was introduced in 2008.
You can find your tax identification number and the one of your child in the respective notification letter of the Federal Central Tax Office (BZSt). Additionally, you can find it on the electronic tax certificate of your employer or on your income tax return. A further possibility to ask for your tax identification number is to use the input form on the website of the Federal Central Tax Office (BZSt) (written notice).
It is advisable to make the child benefit application only when the BZSt informed you about the tax identification number of your child.
If your child happens to live in another EU country it is possible that you are entiteld to receive child benefit nonetheless. The identity has to be verified in another suitable manner, by help of the standards to itdentify persons and verify documents in the specific country.
Source: BZSt
Please feel free to contact our expert Dagmar Köbsell, if you have any questions:
E-mail: dagmar.koebsell(at)icunet.ag
Phone+49 (0) 221 97661-0